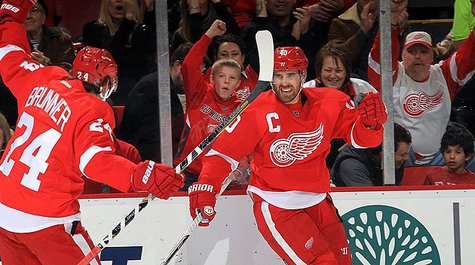 Detroit, MI (1660 The Fan) - Henrik Zetterberg scored his second goal of the game 1:04 into overtime to force a Game 7 after the Red Wings defeated the Anaheim Ducks 4-3 in overtime on Friday night at Joe Louis Arena.
The Red Wings blew a two goal lead with 3:28 left in the third as the Ducks forced the fourth overtime game of the series.
Zetterberg scored his first goal 6:19 into the third period to put the Red Wings up 2-1. Justin Abdelkader scored his second playoff goal with 8:30 left in the game to give the Wings a two goal advantage. This was Abdelkader's first game back after sitting out the last two due to suspension.
Pavel Datsyuk tallied the Wings first goal with a backhander into the corner of the net passed Ducks goalie Jonas Hiller for the 1-0 lead with just over a minute left in the first. Datsyuk also recorded assists on both of Zetterberg's goals.
The Ducks tied the game at one when Brendan Smith scored an own goal when the puck bounced off his shoulder and he couldn't control the puck as it went past Howard and into the Wings net with 8:28 left in the second.
Anaheim scored their second and third goals just 51 second apart from Emerson Etem and Bobby Ryan.
Jimmy Howard made 34 saves.
Game 7 will be on Sunday night at 10pm in Anaheim