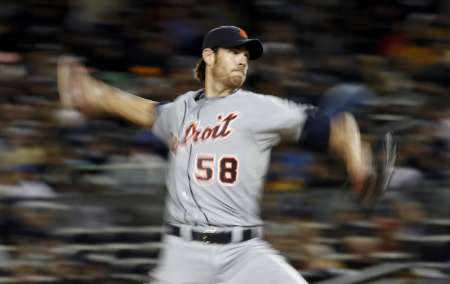 Washington, DC (WKZO) – Prince Fielder almost had a really happy birthday. With the Tigers down 5-4 and two down in the ninth and a runner on first, the newest 29-year old hit a blast to the warning track in left center, but it fell just a few feet short of the wall and Denard Span made a routine catch ending the Tigers chance of splitting their brief two game series with the Nationals.
Doug Fister was chased early from Thursday's game after allowing five runs – four earned – in just three innings of work, his shortest outing since Sept. 21, 2011.
The Nationals were able to get to Fister early and often as he gave up three runs in the first and two in the second. But with only 73 pitches under his belt and the Tigers down 5-1, with two runners on, Jim Leyland decided to replace Fister in the nine spot in lineup in favor of Victor Martinez. Martinez who hadn't played since Sunday, struck out ending the Tigers half of the fourth.
But while Fister struggled on the mound he did find a little success at the plate. With runners on the corners and two down in the second, Fister hit an RBI single scoring Jhonny Peralta from third and trimming Washington's lead to 3-1. His single ended a 0 for 29 streak for Tigers pitchers and became the first Tiger pitcher to record a hit since Rick Porcello got a double on May 22, 2011.
Dan Haren went six innings for the Nationals allowing just the RBI single to Fister and a three bomb to Matt Tuiasosopo in the sixth, cutting the lead to 5-4. Tuiasosopo was inserted into the pitchers spot after Jhonny Peralta and Omar Infante both reached base on singles.
Ryan Zimmerman had three hits for Washington.
Tigers Highlights:
*Darrin Downs replaced Fister, and pitched a perfect fourth and fifth, striking out three.
*Luke Putkonen started the sixth by walking Wilson Ramos and after giving up a sac bunt was replaced by Drew Smyly. Smyly set the next two batters down to get out of the sixth and pitched a scoreless seventh.
*Getting work for the first time since May 3rd, Jose Valverde set the Nationals down 1-2-3 in the eigth on just seven pitchers and was hitting 95mph on the radar gun.
Tigers Lowlights:
*During the Nationals three run first inning, Austin Jackson misplaced a hit into center from Andy LaRoche allowing Bryce Harper to score from second and put Washington up 2-0. Harper grounded into a fielder's choice driving in the first run of the game. Ian Desmond had an RBI single for the Nationals third run.
*Washington added two more runs off Fister in the second after he hit Denard Span and walked Roger Bernadina with one out to put two runners on. Then Fister allowed back to back singles to Ryan Zimmerman and LaRoche, scoring Span and Bernadina.
Game Notes: Miguel Cabrera's single in the first extended his hitting streak to eight games. He went 2 for 5…Infante had three hits…Peralta reached base three times (two hits, one walk) and scored two runs…The Tigers had 12 hits…Tigers welcome the Cleveland Indians to Comerica Park for a three game weekend series. Cleveland is 18-14 on the year, winners of four in a row and 10 of last 11 and trail the Tigers by one game for first in the AL Central. Max Scherzer (4-0, 3.43 ERA) gets the nod for Detroit vs. Corey Kluber (2-1, 3.06)