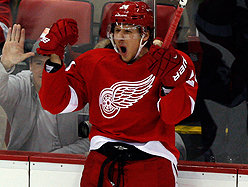 Detroit, MI (1660 The Fan) – The Red Wings overcame 1-0, and 2-1 deficits to force overtime, and Damian Brunner scored with 4:50 left in the first overtime to give the Wings the Game 4 victory 3-2 over Anaheim to tie the best of seven series at two games apiece.
Matt Beleskey tallied the opening goal of the game 5:07 into the first, giving the Ducks a 1-0 lead.
The game remained 1-0 until Brendan Smith scored on a slap shot from the blue line, even the game at one 1:18 into the third. The goal ended a six period scoreless streak for the Wings.
Anaheim regained the lead at 2-1 when David Steckel found the back of the net passed Wings goalie Jimmy Howard with 9:20 left in the game.
Pavel Datsyuk's first goal of the playoffs tied the game at two with 6:33 left in the third period.
Jimmy Howard made 31 saves while Jonas Hiller saved 46 Wings shots. Both teams went scoreless on the power play. (Detroit 0-1, Anaheim 0-3)
Wings look to take a 3-2 series lead in Game 5 on Wednesday in Anaheim at 10pm.