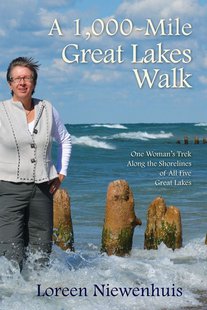 KALAMAZOO (WKZO) -- A Michigan woman who walked around all of the Great Lakes and then wrote a book about it will make an appearance during this Friday's Art Hop. Loreen Niewenhuis, author of "A 1,000 Mile Great Lakes Walk," will be at Nature Connections to sign copies of the book.
She says she decided to embark on the trek after taking a few initial hikes around Lake Michigan, andduring her trip, she considered Lake Superior to be the weirdest, wildest Great Lake. Niewenhuis also found the transition from rural to urban terrain around Lake Ontario to be interesting, and noted Lake Erie has gotten a lot better in the last couple of decades.
Her book is available at Nature Connections.