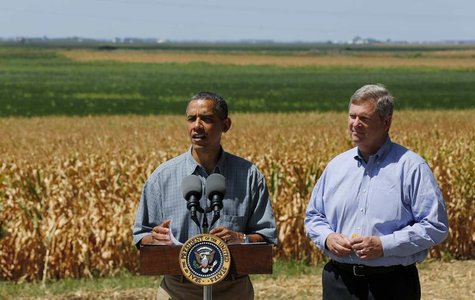 UNDATED (WKZO) -- Way back in a remote corner of my memory there is a remnant of a poem which presumes to say that no matter how difficult a day on the farm may have been, spirits are lifted and smiles are brighter with the announcement, ". . . . the market's up!" I could not then, nor can I now, avoid playing the devil's advocate by observing, unless the market is up because the supply is short.
That's just one of the many things that can go wrong in the world of agriculture. Then comes a year like 2012. Fortunately, a year like that doesn't come around very often.
Farmers all across the country, certainly to include Michigan, are hoping for a little extra good luck, maybe even some special divine intervention as they anticipate production in 2013. Last year was a bad year in a few obvious ways, and in some ways maybe not so obvious. There was, of course, the early onset of exceptionally warm weather, which brought on bud and then blossom development. They were subsequently destroyed by a session of exceptional cold. Almost anybody can imagine the kinds of problems that presented. Obviously many plants did not provide any produce to be harvested and sold. Many of those crops are dependent for harvest on migrant labor, and many of those folks are dependent on our crops for the work that pays the money that supports their families.
Now, we are "Wait and See." So far, there's no sign of a sudden warm-up that will cause premature budding and blossoming. It's still a time of waiting and seeing. Some fruit trees (my apple trees, for example) are showing normal bud development.
Some media people, assuming I suppose they express the majority feeling, are bemoaning the late March chill, and the snowfall. The chill is far more welcome on the farm than would be temperatures in the 70s or 80s. The snowfall is welcomed early in the year for the insulation it provides against hard freeze in the ground, and for the groundwater it provides as it melts.
If the climate doesn't misbehave crop development should proceed normally to harvest and then to market. But, there's another "wait and see" to be dealt with. That migrant labor force which didn't have much work around here last year, for the most part went elsewhere. They have to have work whereever they can find it. It could be that work force, or at least a major part of it, found more attractive work conditions elsewhere last year, and may not be available to our growers this year.
Michigan asparagus is a grand consumer of migrant labor. Late May-early June asparagus harvest time will tell us much, about the depth of this year's migrant labor force.
Karl Guenther is a retired Kalamazoo farm broadcaster and can be reached at khguenther@att.net. He is a member of Michigan Farm Bureau and an emeritus member of the National Association of Farm Broadcasting.