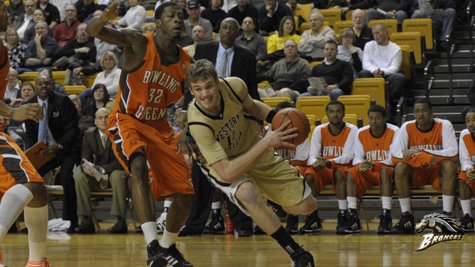 Note: For WMU Men's Basketball score updates, text BRONCOS to 80373
CLEVELAND, OH (WKZO) – Four Broncos reached double-figures in Friday's MAC Tournament semi-final, but the Ohio Bobcats were too much, topping Western Michigan 74-63.
Nate Hutcheson and Darius Paul led the Bronco starters with 16 points. Paul finished the night 6-of-7 from the field including a three pointer late in the second half. Brandon Pokley had 10 points on 4-of-9 shooting and a pair of 3-pointers. Shayne Whittington struggled, recording only six points in the game on 2-of-7 shooting to go along with 12 rebounds. David Brown led the charge off the bench with 10 points.
The Broncos trailed by as many as 19 in the opening half, and their deficit was 17 going into the locker room. A strong second half by Western Michigan cut the lead to 2, but Ohio pulled away down the stretch to advance to the MAC Tournament final.
The Bobcats were powered by DJ Cooper who poured in 21 points on 6-of-8 from the field, four 3-pointers and 5-of-5 from the free throw line. Walter Offutt followed with 14 points and Reggie Keely added 12 points. Ohio finished 11-of-21 from the long line compared to six 3-pointers for the Broncos. Ohio finished 25-of-52 shooting (48.1%) compared to Western Michigan who finished 21-of-45 (46.7%)
Ohio (24-8, 14-2 MAC) will face Akron in the MAC Tournament final. The Zips defeated Kent State in the other semi-final. Western Michigan (20-12, 10-6 MAC) will learn their postseason fate next week.