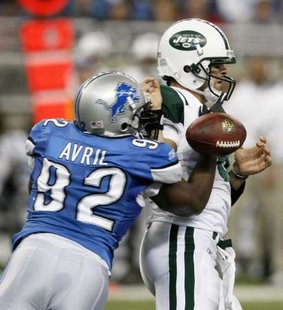 The Detroit Lions may be in the market for a new defensive end in this year's NFL draft, as Cliff Avril has agreed to a deal to send the former third-round pick to the Seattle Seahawks.
The 26 year old agreed to a two year, $15 million deal that will put him on a team already favored to win next year's Superbowl.
Avril finished last season with 9.5 sacks and 35 tackles. He received the franchise tag in Detroit last season, though he didn't sign a one year, $10.6 million offer prior to last season's training camp.
Other moves:
Receiver Wes Welker agrees to a two year, $12 million contract with the Denver Broncos.
Receiver Danny Amendola signs a five year, $31 million contract with the New England Patriots.
Running back Shonn Greene agrees to a three year, $10 million deal with the Tennessee Titans.