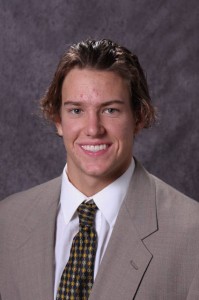 Kalamazoo, MI (WQLR) – On Wednesday the CCHA named its All-Conference list with numerous Broncos receiving acknowledgement for this season's accomplishments. Representing WMU on the First-Team was defenseman Dan DeKeyser, while forward Luke Witkowski and goalie Frank Slubowski were named to the second team.
This is DeKeyser's second time making an All-CCHA team as he was named to the second team last season. In 33 games this season, the junior racked up 15 points on two goals and 13 assists and helped WMU to the third-best defense in the nation.
Slubowski and Witkowski both earned Second Team All-CCHA honors for the first time in their careers.
Slubowski started all 36 games this season and finished with a 15-7-6 record in CCHA play. He ranked third in the CCHA with 1.93 goals against.
Senior captain Witkowski partnered with DeKeyser on the blue and led the Broncos with 53 blocked shots in the regular season. The senior captain tallied 10 points on two goals and eight assists.
The Broncos host Michigan in the CCHA Quarterfinals on Friday at 6:30 p.m., Saturday at 7 p.m. and Sunday at 7 p.m. if necessary.