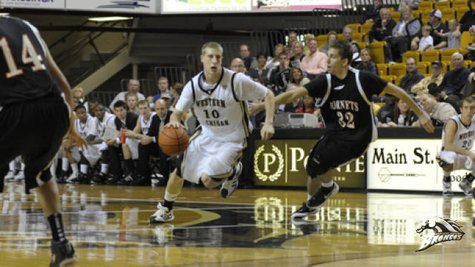 Kalamazoo, MI (WKZO) – Kevin Randall missed a potential game tying three-pointer as time expired as Western Michigan defeated Central Michigan 71-68 on Saturday at University Arena, completing the season sweep over their arch rival.
Shayne Whittington recorded his MAC leading 11th double-double with 16 points and 14 rebounds and Brandon Pokley scored 15 points for the Broncos (19-11, 10-6 MAC), who finish the regular season tied for first in the MAC West with Toledo but will receive the West crown based on a 2-0 head to head record with the Rockets. The Broncos will also be the No. 3 seed in next weekend's MAC tournament in Cleveland.
Whittington scored 10 straight to start the game for the Broncos, whose largest lead was 23-13 at the 8:10 mark. But after Whittington picked up his second foul with 4:37 left in the first, the big man headed to the bench and CMU took advantage, outscoring WMU 14-5 to close out the half, and took a four point lead into the break, 38-34.
CMU extended their lead to 43-34 a minute into the second and were up 53-48 with 11:05 before Pokley caught fire. The senior drilled three 3's in a 2:41 span while the Broncos as a team scored 13 straight before the Chips stopped the bleeding. But the damage had been done, WMU never trailed from that point on. Pokley went 5-7 from behind the arc and did not attempt any other shot other than 3-pointers.
Fellow senior Nate Hutcheson's 3-ball with 1:17 put WMU up 68-63. Then with 12 seconds left, two made free throws from the Broncos soon to be all-time career games leader, put WMU up three before CMU's final possession.
Randall scored a career high 33 for CMU while connecting on 6 of 10 from behind the arc.
Game Notes: The Broncos third senior Dan Loney made the start and had one point in seven minutes…Darius Paul scored 12 points and Connar Tava scored 11 for WMU…Austin Richie had a game-high seven assists for the Broncos…WMU outscored CMU 37-30, while shooting 60.9%, in the second half...With the win WMU takes possession of the Michigan MAC trophy, as they finished with the best record (3-1) in games among Western, Central and Eastern Michigan…Had WMU lost to CMU, the Broncos would have still been awarded the MAC West Title due to postseason sanctions placed on Toledo this past off-season.