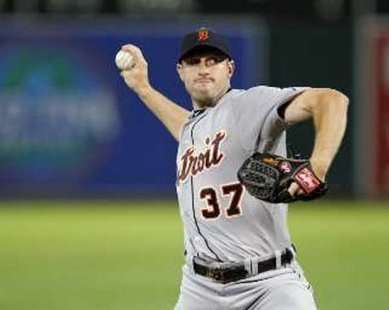 St. Petersburg, FL (WKZO) – Miguel Cabrera had four hits including two home runs and Max Scherzer improved his record to 12-0 as the Tigers ended their three game losing streak with a 6-3 victory over the Tampa Bay Rays on Friday night.
Scherzer became the first pitcher in Tigers history and the first in baseball since 1986 to start a season 12-0 since Roger Clemens did so in 1986 after tossing seven innings while allowing three earned runs on four hits and struck out nine. Scherzer increased his streak of consecutive games with at least six strikeouts to 16 games.
Scherzer was perfect through three innings before giving up his first hit, a solo home run to Ben Zobrist in the fourth inning. He later gave up another solo home run to Will Myers in the fifth inning. Luke Scott hit an RBI double in the seventh for the Rays final run but Scherzer received plenty of support for the Tigers two big boppers.
Miguel Cabrera and Prince Fielder combined for six hits, three home runs, five runs scored, and five RBIs. Cabrera connected on two long balls, the first in the first inning a two run blast with Austin Jackson on base, then hit a solo shot in the fourth inning to increase the Tigers lead to 3-0.
After Cabrera's home run in the fourth Fielder doubled and after advancing to third on a sac fly he scored on a wild pitch increasing the lead to 4-0. With the Tigers up 4-3 in the eighth inning Fielder hit a ball that had it not hit the catwalk overhang in right field may still not have landed. According to Rays officials it's one of the longest balls ever hit at Tropicana Field. The home run was Prince's 13th and first since June 4th against the Rays at Comerica Park.
Al Alburquerque and Drew Smyly combined on a scoreless eighth inning and Joaquin Benoit closed out the ninth for his fifth save of the year.
Alex Colome took the loss for Tampa, his first of the season. Colome went six innings allowing four runs – all earned – on four hits and struck out four. Colome had not allowed an earned run in 10 innings prior to Friday night's game.
Games Notes: Roger Clemens started 1986 14-0 before suffering his first loss…Bruce Rondon was recalled from Triple A-Toledo before Friday's game and Evan Reed was optioned to Toledo…Rays third baseman Evan Longoria left the game in the second inning after he was diagnosed with an irritation of the plantar fasciitis. He is day-to-day…Don Kelly and Omar Infante were the only others Tigers to record hits…Tigers pitchers combined for 14 strikeouts…Justin Verlander (8-5, 3.90 ERA) gets the start in the middle game of the three game set for the Tigers. Chris Archer (2-3, 4.21) takes the hill for Tampa. Archer has never faced the Tigers before. First pitch is set for 7:15.