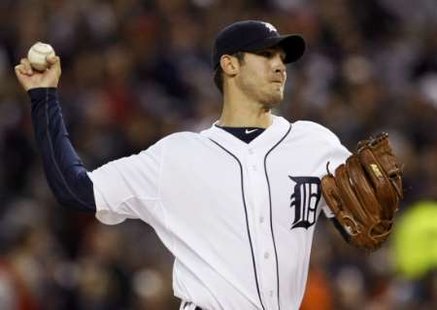 Detroit, MI (WZKO) – The two worst innings for the Tigers this season have both come against the Los Angeles Angels and both with Rick Porcello on the mound. The first was on April 20th during the first inning when the Angels put up nine runs on nine hits, forcing Jim Leyland to pull Porcello after recording just two outs. The second came on Tuesday night as the Angles had 13 batters come to the plate as they scored eight runs in the fifth inning en route to a 14-8 victory over the Tigers in the first game of a three game set at Comerica Park.
Porcello was credited with allowing five of the runs in the fifth and seven overall as he suffered his fifth loss of the season. Porcello gave up 10 hits, tying a season high, and his 4 1/3 innings pitched was his shortest outing since the debacle on April 20th. Darrin Downs replaced Porcello in the fifth but wasn't any better. In just 1/3 of an inning of work, Downs gave up three runs – two earned – on three hits before Leyland was forced to go to the bullpen once more. Evan Reed finished out the inning but later gave up four runs – all unearned – during the seventh and eighth innings.
While the Tigers pitching staff was far from perfect, their defense was even worse. The Tigers committed six errors during the game which led to five of the Angels 14 runs going down in the record book as unearned. The last time the Tigers had six errors was September 11, 1982 against the Red Sox.
Miguel Cabrera committed two of those errors but was also the source for two of the Tigers runs as he connected on his 21st home run of the year in the third inning off of Angel's starter CJ Wilson, which at the time put the Tigers in the lead 2-1. Prince Fielder had an RBI double and Victor Martinez hit a two run single during the fifth inning. The Tigers added threeruns in the ninth but the game was never in doubt after the fifth inning.
CJ Wilson got the win despite allowing five runs in just five innings of work.
Torii Hunter had three hits against his former team. This is the seventh straight win for the Angels over the Tigers, but the first at Comerica Park.The game between the Tigers and Angels lasted just over four hours. The Tigers still lead the AL Central by 3.5 games over the Indians.
The Tigers look to rebound in the middle game of the three game series on Wednesday night. Jose Alvarez (1-0, 2.45 ERA) gets the start for the Tigers against the Angels starter Tommy Hanson (4-2, 5.10). Hanson tossed six scoreless innings in his only appearance against the Tigers on April 19th. First pitch is set for 7:08.