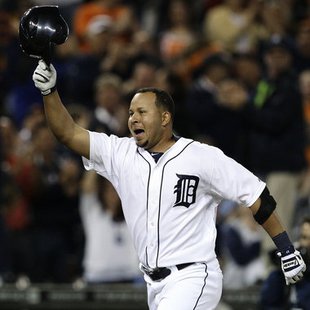 Detroit, MI (WKZO) – Jhonny Peralta hit a two-run walk off home run to give the Tigers a 4-3 victory over the Boston Red Sox in the first of a four game series at Comerica Park.
The Red Sox gained the lead in the eighth inning on an RBI single from David Ortiz and were line to get their 45th victory of the year before Peralta's seventh home run of the year.
Andrew Bailey took the loss for Boston, blowing his fourth save of the year, after walking Victor Martinez to start the ninth. Martinez was pinch ran for by Don Kelly and then on a 1-2 count, Peralta blasted the pitch just over the left field wall.
Drew Smyly recorded the win for Detroit after coming in relief in the eighth inning. Smyly is now 3-0 after tossing two innings of scoreless ball. He struck out four and allowed just one hit.
Making his second start of the year for the Tigesr, Jose Alvarez went five innings, giving up just two runs, a solo home run to David Ortiz in the fourth and an RBI single to Jacob Ellsbury in the fifth to give the Red Sox a 2-0 lead.
Torii Hunter tied the game in the Tigers half of the fifth with a two run single scoring Andy Dirks and Brayan Pena off Red Sox starter John Lackey. Lackey was in line for the win after tossing seven innings, giving up two runs, seven hits and striking out five.
Phil Coke struggled in 1/3 of an inning of relief, giving up one hit, two walks and one run, the third for the Red Sox, after Ortiz singled in Shane Victorino.
Tigers and Red Sox play the second game of their series on Friday night. Doug Fister (6-4, 3.21 ERA) battles with Red Sox lefty John Lester (6-4, 4.37). First pitch is set for 7:08.