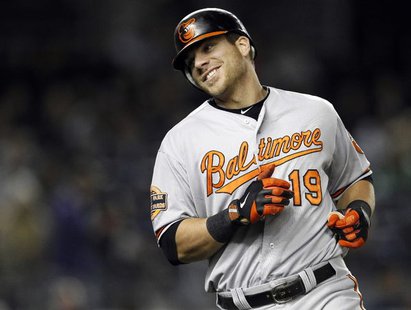 Detroit, MI (WKZO) – Chris Davis hit two home runs, the first during a six run fourth inning for the Baltimore Orioles, as they blew out the Tigers to take two of three from Detroit with Wednesday afternoon's 13-3 beat down.
Davis got the scoring started in the fourth off Tigers starter Rick Porcello, blasting a two-run opposite field shot for the first two runs of the game. Taylor Teagarden then hit a three run bomb, his first home run of the year, later in the inning ending a 1 for 24 skid. Manny Machado capped off the scoring with an RBI single for the sixth and final run Porcello gave up. Porcello lasted six innings striking out four but didn't walk a batter. The loss for Porcello drops his record to 4-4.
The Tigers were able to cut the lead in half at 6-3, after scoring one in their half of fourth on an RBI double from Omar Infante scored Jhonny Peralta who doubled two batters before him. Matt Tuiasosopo then hit a two run double in the sixth inning scoring Victor Martinez and Peralta.
Baltimore increased their lead back to six runs adding on three more in seventh inning off Tigers' relievers Darrin Downs and Evan Reed. Davis once again highlighted the scoring with an RBI ground rule double
Jose Valverde came on in the ninth inning and gave up four runs on five hits including Davis' second home run of the game and league leading 26th of the year. Davis finished with five RBIs and trails Miguel Cabrera by just five for the American League lead.
Chris Tillman got the win for Baltimore. Tillman went five innings allowing three runs while striking out one and giving up seven hits and three walks.
For the second straight game the Tigers left 10 runners on base.
The Tigers welcome the Boston Red Sox to Comerica Park for four games starting on Thursday night. Jose Alvarez (1-0, 1.50 ERA) will make his second start of the year for the Tigers in place of Anibal Sanchez who was placed on the 15-day DL on Monday. In his Major League debut on June 9, Alvarez took a no-hitter into the fifth inning, while going six innings and allowing just a single run. John Lackey (4-5, 3.08) will get the start for Boston. First pitch is set for 7:08.