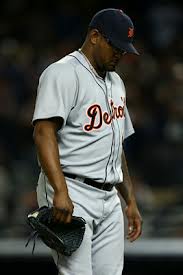 Kansas City, MO (WKZO) – On the six year anniversary of his first no hitter Justin Verlander was just as dominant as he was on June 12, 2007, allowing just three hits over seven scoreless innings of work and was in line to pick up his fifth win in five starts, but then Jose Valverde happened.
With two outs and a runner on first Lozano Cain hit a two-run blast off Valverde over the left-center field wall tying the game at two and blowing the lead, the shutout and his third save in 12 opportunities and sending the game into extra innings.
In the extra frame Eric Hosmer singled home Miguel Tejada from third off Phil Coke for the come from behind victory for the Royals 3-2.
Verlander ended up with a no decision despite his excellent start, allowing just three singles and walked two batters as well, but not one KC runner got past first base against the Tigers ace. Verlander also fanned eight Royals.
Kansas City got another impressive outing from their ace James Shields who allowed two runs – both earned – to the Tigers over seven innings but continued to get no run support while on the mound. Shields, who ranks 41st out of 46 eligible pitchers in run support, gave up seven hits and struck out six and issued just two walks.
Prince Fielder gave the Tigers an early 1-0 lead in the first inning, singling home Avisail Garcia from second. Garcia hit leadoff on Wednesday and doubled to start the game. Garcia's double extended his hitting streak to eight games.
The Tigers scored their second run in the fifth inning after back-to-back doubles from Matt Tuiasosopo and then from Brayan Pena, which scored Tuiasosopo.
Drew Smyly tossed a scoreless eighth inning, but allowed a single in the ninth before Valverde came on.
The Tigers are off on Thursday before heading to Minnesota for three games staring on Friday night.