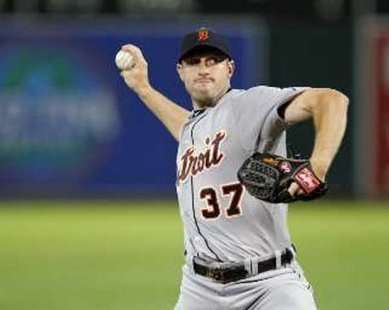 Kansas City, MO (WKZO) – It's been 75 years since a Detroit Tiger starting pitcher has begun a season with a 9-0 record. On Tuesday night Max Scherzer became the first Tiger since Vern Kennedy completed the feat in 1938 with seven solid innings, allowing just two runs on three hits and two walks while striking out six as the Tigers took the middle game of a three game series with the Royals 3-2. Scherzer is now tied for the AL lead with nine wins and is second with 106 strikeouts.
Miguel Cabrera scored the game-winning run on a sac fly from Victor Martinez after reaching base after Aaron Crow hit Cabrera to start the eighth inning. Cabrera advanced to third on a Prince Fielder single and then scored on the sac fly easily. Crow took the loss for KC.
With the Tigers up 2-0 in the fifth the Royals scored both of their runs off Scherzer. David Lough's first career home run, a solo shot, was also the first hit Scherzer gave up after he had retired 10 straight. The Royals tied the game at two later in the fifth on a single from Alcides Escobar scoring Mike Moustakas from second.
Jose Valverde picked up his ninth save of the year after closing out the ninth. Valverde made it interesting after allowing a double to start the inning but got the final three Royals out in order. The loss for the Royals ended their six game win streak.
Wade Davis made the start for Kansas City and went 6 2/3 innings. He struck out five and walked just one.
Tigers Highlights:
*Don Kelly went 2 for 2 and drove in a run during the second inning. With two down, Kelly singled home Victor Martinez from second for the Tigers first run. Martinez reached on a single and advanced to second when Omar Infante singled
*Omar Infante scored the Tigers' second run in the fifth inning on a fielder's choice by Andy Dirks. Infante went 3 for 4.
*Joaquin Benoit tossed a scoreless eighth, allowing just a single.
Tigers Lowlights:
*In the first with one down and runners on first and second, Prince Fielder grounded into a double play to end the early threat. Andy Dirks and Miguel Cabrera singled before him.
*Scherzer issued two walks during the bottom of the first but worked himself out of the jam without allowing a run
*Victor Martinez grounded into a double play to end the Tigers half of the sixth. Cabrera was on base after walking.
*The Tigers loaded the bases in seventh after back-to-back singles from Infante and Avisail Garcia and a walk to Matt Tuiasosopo, but Torii Hunter struck out to end the threat.
Game Notes: The Tigers are 7-22 in games in which they score four or less runs...Billy Butler was ejected in the bottom of the ninth for arguing a called third strike…Tigers lead the Cleveland Indians by 5.5 games in the AL Central with the win…Tigers and Royals close out their three game series on Wednesday afternoon at 2:10. Justin Verlander (8-4, 3.71 ERA) is scheduled to start against Royals ace James Shields (2-6, 2.81)