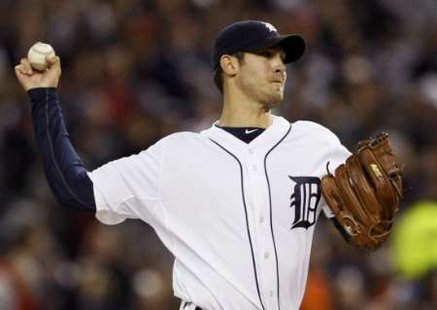 Baltimore, MD (WKZO) – Prince Fielder hit his second home run in as many days and scored both runs for the Tigers, but the Orioles scored three runs in the seventh to take the lead and beat the Tigers on Sunday afternoon 4-2. Detroit has now lost five of their last six.
Rick Porcello took the loss for Detroit, his first in seven starts. Porcello went six plus innings and was taking out in the seventh after giving up a solo home run to Chris Davis and then back to back singles before Phil Coke came on in relief. Coke gave up two hits as well as both inherited runners scored resulting in the loss for Porcello. Porcello struck out seven and walked just one.
Brian Matusz got the win for Baltimore and Jim Johnson recorded his 18th save after tossing a scoreless ninth.
Torii Hunter and Jhonny Peralta each had two hits. Miguel Cabrera went 1 for 4 and grounded into two double plays.
The Tigers are off on Monday before welcoming the Tampa Bay Rays to Comerica Park for three games starting on Tuesday.