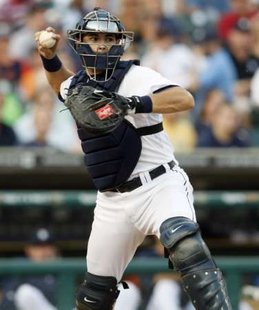 Detroit, MI (WZKO) – Alex Avila's grand slam in the sixth inning was the difference as the Tigers make it four wins in a row as they toppled the Washington Nationals 5-1 on Tuesday night at Comerica Park.
With the bases loaded and one down, Nationals' starter Stephan Strasberg tried to sneak a knee high fast ball past Avila but the Tigers catcher blasted the 2-1 pitch into the third row right fielder bleachers, his seventh home run of the year and first career grand slam. It was also the first home run Strasberg had ever allowed with more than one runner on.
Anibal Sanchez quietly picked up his ninth win of the year after allowing just one run on five hits and struck out a season low one over seven innings. Bryce Harper scored the only run off Sanchez after he opened the game with a lead-off triple and scored on a single from Ryan Zimmerman.
Prince Fielder had a single, walked twice and scored a pair of runs including the first run for the Tigers in the bottom of the fourth on a ground rule double from Andy Dirks. After drawing his first base on balls, Fielder advanced to third on a Jhonny Peralta single. Dirks then roped one down the third base line, scoring Fielder, and would have scored Peralta as well but the play was ruled dead after a fan interfered with the ball.
Jose Veras made his first appearance with Detroit after being acquired from the Houston Astros on Monday. Veras came on in the eighth inning and set down all three batters he faced before Joaquin Benoit tossed the ninth in a non-save situation.
Strasberg's record dropped to 5-9 with the loss. The Nationals Ace struck out out seven but allowed six hits and three walks over seven innings.
Ramon Santiago replaced Miguel Cabrera at third base in the eighth inning after Cabrera tweaked his hip in the fifth.
The Tigers and Nationals wrap up the brief two game series on Wednesday afternoon. Justin Verlander (10-8, 3.99 ERA) looks to rebound from one of his worst starts of the year as he is opposed by Gio Gonzalez (7-3, 2.97). First pitch is set for 7:08pm with pregame coverage beginning on 590AM WZKO at 6:40pm.