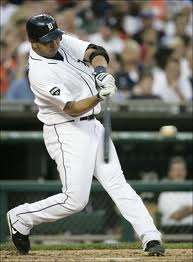 The Tigers played most of the game once again without their top player, but this time it wasn't because of injury, as Miguel Cabrera was ejected in third inning. That didn't matter much as the Tigers defeated a sloppy Philadelphia Phillies team 12-4 on Sunday afternoon at Comerica Park. The Phillies hurt themselves as they lost their eighth straight. They committed three errors and issued two bases loaded walks as the Tigers were able to sweep the series.
The Phillies got the quick jump on the Tigers as they took a 3-0 lead in the fourth inning. The Tigers' offense had plenty of chances in the early going that went by the wayside. Their efforts were halted in the third inning when Miguel Cabrera was thrown out of the game for arguing balls and strikes. It came in a big spot, as the Tigers had the bases loaded with one out with a 0-2 count, and Cabrera took minor issues with the first two strike calls. Following the Cabrera ejection, Jim Leyland took up the case and in turn was also ejected from the game. Matt Tuiasosopo came on and struck out for the second out before Fielder was retired to end the inning.
Trailing 3-0 the Tigers tied the game in the fifth inning. They once again loaded the bases with no one out but this time they cashed in tying the game on a Tuiasosopo single and ground outs by Fielder and Victor Martinez. Detroit then took the lead with an eight run sixth inning thanks to sloppiness by the Phillies and one big blast. A dropped fly ball, a throwing error and two bases loaded walks brought home four runs and that set up Jhonny Peralta to cap off the inning with a grand slam to push the lead to 11-3.
The Tigers will have an off day on Monday and then welcome in the Washington Nationals for a quick two game series on Tuesday. Anibal Sanchez will make the start and will be opposed by Stephen Strasburg.