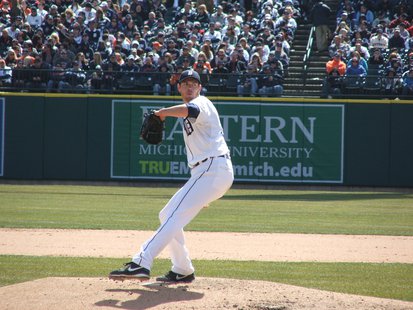 Detroit, MI (WKZO) – Alex Avila's two run double was the difference as the Tigers took the first of three against the National League's Philadelphia Phillies 2-1 in Interleague play on Friday night.
Down 1-0 in the bottom of the fifth, Phillies' starter Cole Hamels allowed a walk to Hernan Perez, a double to Ramon Santiago and then both were driven in on Avila's double, who is hitting .384 over his last four games.
Doug Fister (9-5) was incredible for the Tigers, tossing eight innings while allowing just one run on three hits and set down the 13 of the final 14 Phillies hitters he faced. Fister struck out six and walked just one. Michael Young's RBI single in the third was the run the Phillies could muster.
On his 36th birthday Joaquin Benoit allowed the first batter he faced reach base, but set down the next three he faced to pick up his 10th save in as many opportunities.
Cole Hamels (4-13) was impressive as well, giving up just the two runs on six hits over seven innings.
Game Notes: Miguel Cabrera missed this fourth straight game. Torii Hunter also sat out the game…This was the first time since June 2002 that the Phillies had been to Comerica Park…Fister recorded the Tigers MLB best 57th quality start. Hamels was also credited with a quality start, the 54th for the Phillies, the second most in baseball…The Tigers and Phillies play the middle game of their series on Saturday night. Max Scherzer (14-1, 3.14 ERA) gets the start for Detroit against Raul Valdes (1-0, 7.59). Cliff Lee was the scheduled starter but was scratched due to a stick neck. First pitch is set for 7:08.