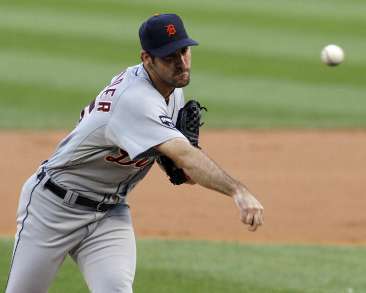 Kansas City, MO (WKZO) -- Justin Verlander struggled mightily allowing six runs -- five earned -- in just 5 2/3 innings as the Tigers lost their second game in a row after the All-Star break 6-5 to the Kansas City Royals.
Mike Moustakas's solo home run in the fifth inning off Verlander ended up being the game-winner for the Royals. Kansas City now leads the season series with the Tigers five games to two.
Alex Avila had three hits and the only extra base hit for the Tigers who held a lead of 3-1 before KC tied the game in the third, took the lead 5-3 in the fourth, and then after the Tigers tied the game 5-5 in the top of the fifth, Moustakas regained the lead for the Royals in their half of the fifth.
The Tigers offense went 5-12 runner's in scoring position but where unable to capitalize in the eighth inning with two runners in scoring position and one out, Torii Hunter and Miguel Cabrera failed to drive in a run.
Greg Holland converted his 17th save in a row and 24th on a year, but did allow a double to Victor Martinez. Martinez had three hits with a run scored and a RBI.
Tigers look to avoid the sweep against Kansas City on Sunday afternoon as Doug Fister (7-5, 4.02) makes the start for Detroit against Royals righty James Shields (4-6, 3.21). First pitch is set for 2:10.