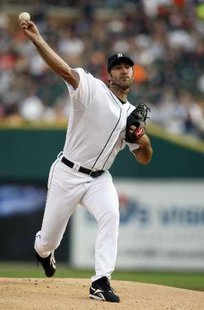 Justin Verlander showed up in a big way on Sunday afternoon and propelled the Tigers to a 5-0 win over the Texas Rangers at Comerica Park. It is his tenth win of the season and It gives the Tigers a big series win over one of the top teams in the American League going into the All Star break.
Verlander was magnificent on the mound and carried a no hitter two outs into the seventh inning. Mitch Moreland finally broke up the no hitter in the seventh inning with a two out double. Verlander departed after the seventh inning with a tight quad muscle. He ended the day by shutting down one of the best offense in baseball on one hit while walking three and striking out three.
The Tigers offense only managed seven hits but they did a lot of damage with every hit. Their first five hits all produced runs and the first three hits were home runs. Torii Hunter started the scoring with a first inning home run and Victor Martinez and Jhonny Peralta hit back to back home runs in the fourth inning. Peralta along with Matt Tuasosopo both plated runs in the sixth inning with run scoring singles.
The Tigers will now break for the All Star break and will be back in action on Friday night against the Kansas City Royals.