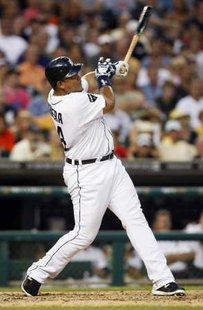 DETROIT (WKZO) - The Detroit Tigers will be well represented at the All-Star game in New York on Tuesday July 16th. Six Tigers have been chosen for the American League All-Star team.
3B Miguel Cabrera has been voted a starter for the American league. 1B Prince Fielder, SS Jhonny Peralta, and OF Torii Hunter all were chosen as reserves for the American league.
Starting pitchers Max Scherzer (13-0) and Justin Verlander (9-5) were chosen by American league and Tigers manager Jim Leyland. Leyland gets to represent the American league along with his coaching staff because the Tigers were American league champions last season.
There is a good chance Scherzer will start for the American league since he is the best pitcher in baseball this season. Any pitcher though who pitches on the Sunday before the All-Star game will not be eligible to pitch in the All-Star game which is bad news for Justin Verlander as he is slated to pitch against the Ragers on July 14th.
The league team that wins the All-Star game will hold home field advantage in the World Series.
UPDATE: Tigers pitcher Joaquin Benoit is in the final All-Star fan vote online. Click on the link to vote Benoit to the American league All-Star team.