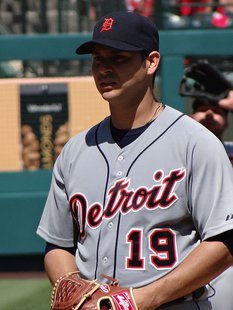 Note: For Detroit Tigers score updates, text SCORES to 80373
CLEVELAND (WKZO) - Anibal Sanchez did not lose any of his touch while being on the DL as Sanchez threw five strong innings for Detroit today. Sanchez (7-5) gave up three hits and allowed one earned run while walking one and striking out four. Detroit Tigers manager Jim Leyland had said Sanchez was on a pitch count today which is why he did not pitch deeper into the game.
The Tigers gave Sanchez plenty of run support though. They got it started in the third inning when Miguel Cabrera hit his 27th home run of the season, a two-run home run. The next batter, Prince Fielder, also hit a home run and Jhonny Peralta drove in Victor Martinez with a single. All four of Detroit's runs in the third inning came with two outs.
The Tigers added three more runs in the fourth as Andy Dirks scored on a throwing error. Austin Jackson hit a sacrifice fly to bring home Alex Avila and Torii Hunter drove in Ramon Santiago with a double.
The Tigers ended their scoring for the day in the sixth as Torii Hunter hit a two-run home run to left, his fifth of the season. Hunter went 3-5 with three RBIs finishing a single short of the cycle.
Former Tiger Ryan Raburn for Cleveland hit his 10th home run of the season in the ninth inning.
Detroit (48-38) is now 6-3 on their current 11 game road trip and they have won five straigt games to put them 3.5 games ahead of Cleveland.
Detorit has scored 40 total runs over this five game winning streak averaging eight runs a game.
Detroit looks to keep pulling away from Clevland in the standings with their game tomorrow. Detroit sends Doug Fister (6-5 3.80 ERA) to the mound tomorrow. Cleveland counters with Corey Kluber (6-5 4.33 ERA). Broadcast time tomorrow on AM 590 WKZO is 12:40pm.