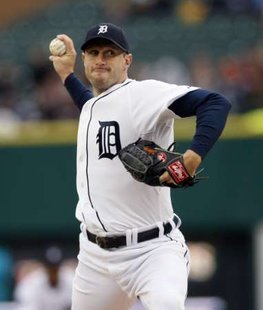 Note: For Detroit Tigers score updates, text SCORES to 80373
TORONTO (WKZO) – Max Scherzer continued writing history Wednesday night. With his 13th win, he is the first starting pitcher since Roger Clemens in 1986 to start 13-0 as the Detroit Tigers topped Toronto for a second straight night, 6-2.
As he's done in his previous 12 starts, Scherzer went at least six innings, striking out eight with a walk while giving up two runs on seven hits in 6.1 innings. The Tiger bats and bullpen did the rest. Bruce Rondon notched the final two outs of the seventh inning. Drew Smyly and Joaquin Benoit combined for four strikeouts to close out the game.
Detroit took advantage of three Blue Jays' errors to run out to a four-run lead in the second inning. Jhonny Peralta opened the scoring with an RBI single on a line drive to bring Prince Fielder home. With two on and two out, Alex Avila drove a fastball opposite field for his sixth homerun of the season putting the Tigers up 4-0.
Victor Martinez padded the lead in the next inning, sending a line drive single to center to score Torii Hunter. Martinez opened the fifth inning with his seventh homerun of the season to put the Tigers up 6-0.
The fourth inning provided some early fireworks when Colby Rasmus broke up a potential double-play opportunity taking out Omar Infante. Both benches were issued warnings, and x-rays performed on Infante were negative.
Toronto broke their scoring drought in the sixth with a pair of RBI singles, the first coming off the bat of Rasmus, but that's as close as they would come.
Detroit (45-38) is 3-3 on the current road trip. A win in Thursday's series finale would earn the Tigers their first series win since topping Boston on June 23rd. Justin Verlander (8-5, 3.77 ERA) makes the start against Esmil Rogers. Broadcast time on AM 590 WKZO is 6:40 pm.
UPDATE: After the game, Tigers' manager Jim Leyland said Infante's leg was very sore and he would not play Thursday. Leyland also told the media that he would be sitting Miguel Cabrera for Thursday's game saying his third baseman was suffering from a sore back.