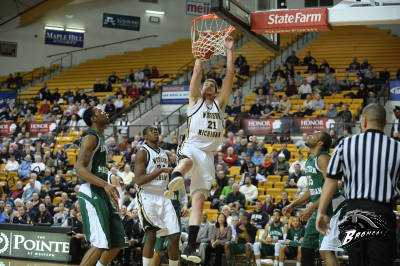 Note: For WMU Men's Basketball score updates, text BRONCOS to 80373
OXFORD, OH (WKZO) -- Behind four shooters in double-figures, Western Michigan earned their fifth straight win Wednesday night, downing the Miami RedHawks at Millett Hall 72-68.
Shayne Whittington led the Bronco offense with 13 points on a perfect 5-for-5 from the floor, and 3-for-4 from the free throw line. He played most of the game in foul trouble, only on the floor for 16 minutes. Darius Paul added 12 points, Nate Hutcheson and Brandon Pokley each had 11 points in the win.
Western Michigan neutralized 22 turnovers on the road by shooting 58.5% from the floor while holding Miami to a 38.6 shot percentage with 19 turnovers. The RedHawks also held a 35-28 advantage on the boards.
The Broncos snapped a 14-game losing streak in Oxford last year, and tonight's win marks back-to-back wins at Millett Hall for the first time in program history. The win also marks the third consecutive road win for Western Michigan in MAC West play after dropping their first two conference games.
Western Michigan (13-7, 5-2 MAC) welcomes Buffalo to University Arena Saturday. Broadcast time on 96.5 FM WKZO is 6:30 pm.