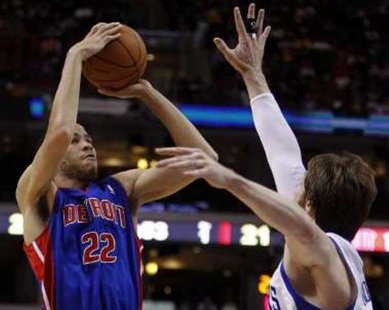 (WQLR 1660 The Fan) – According to sources, the Detroit Pistons have traded Tayshaun Prince and Austin Daye to the Memphis Grizzles as part of a three-way trade. In return for Prince and Daye, Detroit will receive Jose Calderon from Toronto. Other players involved in the trade are Rudy Gay and Hamed Haddadi both will head to Toronto, and Ed Davis will land in Memphis.
Prince, the only remaining member of the Pistons 2004 Championship on the roster, had played his entire career him the Pistons since he was selected 22nd overall out of Kentucky in the 2002 NBA Draft.
Jose Calderon, 31, is averaging 11 points and seven assists this season for Toronto and is the Raptors all-time leader in assists. He's also shooting 47% from the field, including 42.9% from three, and nearly 90% from the free-throw line and is in the final year of a five-year, $45-million contract.
By trade Prince, the Pistons will save nearly $14 million, and free up more cap room for the upcoming off-season as they continue to attempt to rebuild.