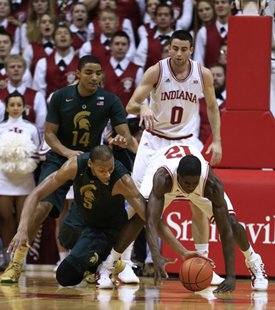 Bloomington, IN (WKZO) – Victor Oladipo scored 21, had seven rebounds and grabbed six steals in a 75-70 Indiana victory over the Michigan State Spartans on Sunday afternoon.
The seventh ranked Hoosiers (18-2, 6-1 Big Ten) have now won three games in a row and at the moment are atop the Big Ten standings, a half-game ahead of Michigan.
Michigan State was led by Indiana's 2012 Mr. Basketball Gary Harris who had 21.
Indiana was up by six at halftime, 44-38, and never trailed the Spartans by more than two points.
Cody Zeller's driving layup gave Indiana a 74-70 lead with 1:39 left and put the game out of reach for Michigan State. And last ditch attempts came up short for the Spartans (17-4, 6-2), who had won six in row.
Michigan State next takes on Illinois on Thursday.