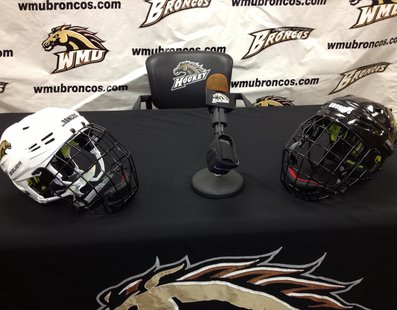 Note: For WMU hockey updates, text BRONCOS to 80373
KALAMAZOO (WKZO) – Following a shootout loss Friday night and 3-1 win Saturday with Lake Superior State over the weekend, the 10th ranked Western Michigan hockey team starts their preparation for this weekend's home-and-home series with Bowling Green.
"Bowling Green has a tremendous sophomore class," Western Michigan Head Coach Andy Murray said at the weekly press conference, adding "Their physical style of defense makes it really hard on your team. We're looking for a battle this weekend."
Although the Falcons sit at the bottom of the CCHA rankings, the Broncos haven't notched an outright win against them since November 25, 2003, a 4-3 OT win at Bowling Green.
"They have an old building and a great crowd behind them and that makes it an extremely tough place to play on the road," Junior Forward Chase Balisy said.
Lawson Ice Arena represents another formidable place for visitors, boasting 4,000-plus both nights over the weekend.
"It's a lot of fun for our players to be able to have this type of atmosphere," Murray said of the crowd at Lawson, "It's by far the best part of our program."
This weekend's series presents an interesting chance for Western Michigan to gain some ground in the conference standings with Miami (#2) playing out of conference in Wisconsin, but the Broncos are only looking at one game at a time.
"We don't really focus on rankings," Murray commented. "We're just trying the beat the next team we play. All I know is if you win the next game you play; you're going to be in pretty good shape at the end of the year."
The Broncos and Falcons open in Bowling Green Friday night, and finish in Kalamazoo on Saturday. Both games can be heard on 96.5 FM WKZO.