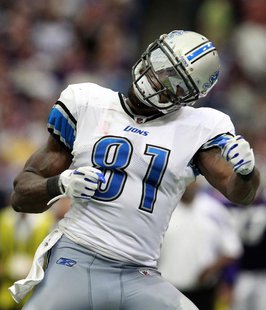 After breaking Jerry Rice's single season receiving yards record with 1964 yards, it comes as no surprise that on Saturday Calvin Johnson was named to the Associated Press All-Pro Team for a second consecutive year. Johnson received 49 out of a possible 50 votes, falling just one short of being an unanimous decision for a second year in a row.
Despite a disappointing season from the Lions, Johnson was able to break Rice's record of 1848 yards with one game to spare, and fell just 36 yards short of 2000.
Johnson also set an NFL record with eight-straight 100-yard games during the season and finished with 11 total 100-yard performances, tying the NFL record. Megatron also led the league in receptions with 122.
Ndamukong Suh was voted to the All-Pro second team and was the only other Detroit Lions player recognized by the AP. The defensive tackle had eight sacks and was named to the first team as a rookie in 2010.