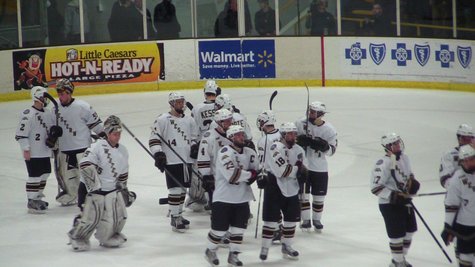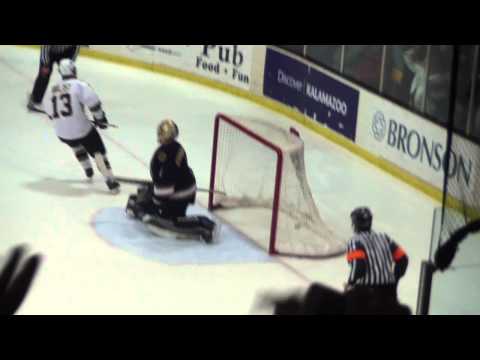 rdaNNg0zmrc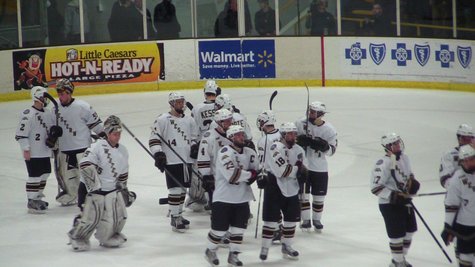 Kalamazoo, MI (WKZO) – Chase Balisy found the back of the net passed Notre Dame goalie Steven Summerhay in the fourth round of a shootout on Friday night, giving the Broncos a 2-1 shootout victory over the Fighting Irish after ending overtime tied at three. With the shootout win the Broncos gain two points, and remain in second place of the CCHA but now trail Miami (OH) by three points.
The Broncos never trailed but were never up by more than one, as Notre Dame responded after each WMU goal.
Justin Kovacs got the scoring started for the Broncos in the first period with his fourth goal of the season. David Gerths tied the game at one for Notre Dame exactly five minutes after the Broncos goal.
The tie didn't last long as Will Kessel scored his first goal of the season 21 seconds later, and the Broncos entered the first intermission up 2-1
It looked as if the second period was going to finish out with no goals added to the scoreboard until Byran Rust shorthanded goal tied the game at two for the Irish with less than 90 seconds left in the period.
Once again the game didn't remain tied for long, as Nolan LaPorte put the Broncos back ahead with his second goal of the season, 4:07 into the third.
Austin Wuthrich tied the game at three for the Irish with just less than nine minutes left in the game.
After the five minute overtime period concluded with neither team lighting the lamp the shootout started. Mike Leone scored in the second round but Byran Rust tied it at one in the third round of the shootout before Balisy closed it out in the fourth.
Frank Slubowski made 25 saves for the Broncos.
The Broncos and Irish resume the weekend series on Saturday night. Game time is set for 7pm.