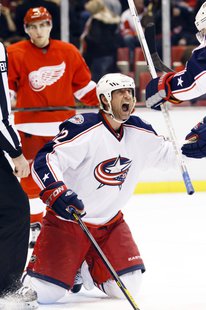 Detroit, MI (WQLR) – Since their expansion season in 2000, there is no team the Columbus Blue Jacks have struggled against more than the Detroit Red Wings. After allowing two goals in the opening 2:40 of Thursday night's game, it looked as if their misfortune against the Wings would continue.
But with 24.7 seconds left in the third period, Vinny Prospal found the back of the net passed Red Wings goalie Jimmy Howard, capping off a 3-2 come from behind win for the Blue Jackets at Joe Louis Arena.
Sergei Bobrovsky stopped 28 of the Wings' 30 shots, and 27 in a row after allowing first period goals to Damien Brunner and Valtteri Filppula. Brunner's goal came 18 seconds into the game, his eighth of the season.
RJ Umberger trimmed the Wings lead to 2-1 with 15:37 left in the opening period, scoring 26 seconds into a power play, created by a two minute penalty from Jordin Tootoo for instigating. The Red Wings enforcer received the penalty after jumping into fight with Derek Dorsett, who had already dropped the gloves with Jonathan Ericsson.
However, Dorsett got the last laugh after tying the game at two with his second goal of the season just over five minutes into the third period.
Jimmy Howard made 21 saves for Detroit, who are now winless in their last five games. Columbus had entered the Thursday's game with a NHL low 10 points.
A scary moment happened in the second period when Artem Anisimov was carted off the ice after banging his head hard on the ice after being hit by Kyle Quincey. Anisimov was alert and able to move when he was taken to a hospital as a precaution.