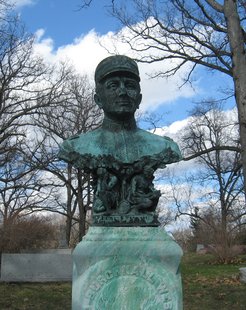 KALAMAZOO (WKZO) -- There are fears that a piece of Kalamazoo's history, the 100-year-old bronze bust of Richard B. Westnedge has been stolen from his grave at Riverside Cemetery and may be lost forever.
Historian Lynn Houghton Tells WKZO that Westnedge was a military surgeon who died during the Spanish American War.
His brother Col. Joseph B. Westnedge died after World War 1. She says Westnedge Avenue was renamed in their honor.
She says the history of Kalamazoo can be found in a lot of places, even the city's cemeteries.
Her greatest fear is that it was stolen and sold for scrap metal.
But she says there is always some hope it will be recovered.
During the warmer months, Houghton does regular walking tours of the city's historic neighborhoods and cemeteries.