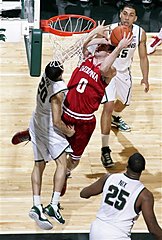 East Lansing, MI (WKZO) – The last time Indiana won at the Breslin Center, only two members of the current Hoosiers team were alive. 22 years and 17 games later, Indiana finally ended their losing streak in East Lansing, defeating Michigan State 72-68 on Tuesday night.
With 3.7 seconds left, MSU was down 70-67 as Gary Harris stepped to the free throw line with an opportunity to tie the game after being fouled behind the arc. However, the favorite for Big Ten Freshman of the Year, split the first two attempts, missed the third shot intentional, and Indiana's Victor Oladipo grabbed the rebound, was fouled and made both free throw attempts to put the Hoosiers up two possessions, as they escaped with the victory and now own a one game lead in the Big Ten standings.
Oladipo and Cody Zeller topped the scoring charts for Indiana with 19 and 17, respectively, as they each reached the 1000 point milestone for their colligate careers. Overall, Zeller holds a slight edge over Oladipo 1011-1005.
The first half was controlled by Indiana, as they led by as much as eight before ending the half up 36-30.
With 16:04 remaining in the game, Indiana was leading 45-38, before MSU went on an 11-3 run over the next 2:40 to take the lead 49-48 with 13:23 left. It was the first time the Spartans were on top since they were up 11-10 early in the first half.
Indiana was able to regain the lead and extended their advantage to 57-51 with 9:49 left.
MSU took the lead back after Adreian Payne scored five straight, putting the Spartans on top 60-59 with 6:27 left. The two teams traded the lead four more times over the next four minutes. With 1:38 Gary Harris split a pair of free throws, which gave MSU their largest lead of the night at 67-63.
Christian Watford then finished off an old fashion three point play 13 seconds later, making a strong move to the basket and throwing up an off balanced one hand shot while being fouled, trimming the MSU lead to 67-66.
On the Hoosiers next possession, Oladipo tipped in a missed Yogi Ferrell shot to regain the lead for the last time for Indiana 68-67 with 47 seconds left.
Harris scored 19 and Payne added 17 and seven boards for the Spartans who had won five straight and 11 of 12 with the only loss coming at Indiana, 75-70. MSU's leading scorer Keith Appling struggled mightily, scoring just 6 points on 1-8 shooting.