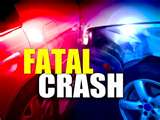 KALAMAZOO (WKZO) -- Officials have identified the three Metro Detroit residents who were killed in west Michigan when their SUV went off of I-94 in Calhoun County Monday. Investigators say 55-year-old William Gatesy, his wife 53-year-old Dawn Gatesy and their 28-year-old son William Gatesy III from Allen Park were pronounced dead at the scene.
An 81-year-old female and 27-year-old male who were passengers in the vehicle were hospitalized and are recovering. Their names have not been released.
Investigators have not yet determined what caused the vehicle to go off the freeway.