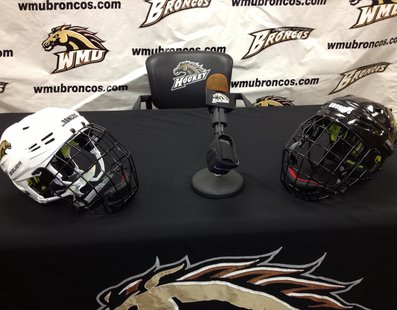 Note: For WMU hockey score updates, text BRONCOS to 80373
KALAMAZOO (WKZO) – With six games to go in the regular season, Andy Murray says there's no room for "fatigue" in his team's vocabulary.
Addressing the media at the weekly press conference, Coach Murray and the Bronco hockey team is focused on Friday and Saturday's games with Ohio State. However, the sting of the weekend split with Miami is still fresh in their minds.
"We're disappointed with the fact our team didn't play better Saturday," Murray said, "If you happen to lose Friday and win Saturday, you probably come away feeling pretty good about that."
That's exactly what the Broncos' next opponent did last weekend. The Buckeyes earned a "positive" split Alaska, following a 6-1 loss Friday with a 3-1 win on Saturday. Ohio State is led offensively by sophomore Ryan Dzingel, who has a team-best 13 goals and 28 points on the season, registering a point in six of the last seven games. In goal for the Buckeyes, Brady Hjelle dropped his goals-against average to 1.78, and Ohio State's defensive corps is averaging 2.23 goals allowed a game.
The weekend's series in Columbus will be the first in three years for WMU. Taking his first trip to Ohio State, sophomore forward Will Kessel says it's easy to stay motivated for big games late in the season.
"Our team has a great attitude," Kessel said, "We know what to expect when we come to the rink night-in and night-out, and having great chemistry and having fun keeps us fresh."
Following a freshman campaign in which he scored six goals, Kessel has yet to light the lamp this year, but that hasn't detracted him from making major contributions to the team's success this year. Kessel has sparked this year's team with energy on every shift, taking more of a defensive role facing some of their opponent's top lines every weekend.
"There is a lot of hockey left to be played, so I know I'll score one soon."
Will Kessel and the Broncos will get their first shot at Ohio State Friday night in Columbus. Broadcast time on 96.5 FM WKZO is 6:30.