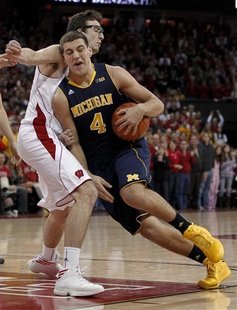 Madison, WI (WQLR) – Ben Brust's near half-court shot as time expired sent the game to overtime. He then made the game winning three with 43 seconds left in overtime, clinching Wisconsin's 65-62 victory over the No.3 Wolverines on Saturday afternoon, their 11th straight victory over Michigan in Madison.
Trey Burke had 19 for the Wolverines, but his potential game tying three rimmed in and out with five seconds left in overtime. Michigan (21-3, 8-3) has now fallen in back to back road games.
Michigan shot the ball poorly, making only 39.4% of their field goal attempts, well below their season average of 50%. They also found little success from behind the arc, connecting only 5 of 18 (27.8%). A season low two foul shots were attempted as well.
The game featured 13 lead changes and 8 ties, with most of the see-saw action occurring in the second half.
Michigan led at halftime 29-28, but trailed by nine to the Badgers with 7:56 left in the half.
After Michigan pulled out to their biggest lead of six, 55-49, with 6:31 left, the Wolverines then went scoreless over the next five plus minutes, as Wisconsin trimmed the lead to one. Burke ended the draught with 1:07 to go with Michigan up 57-54.
On Wisconsin's next possession, Jared Berggren exploded to the hoop, dunking over Burke, who picked up the foul as well. Berggren sunk the free throw tying up the game at 57.
Timmy Hardaway Jr. then drilled a three pointer from the top of the arc with 2.4 seconds left, quieting the 17,000 plus at the Kohl Center.
After a Badger timeout, Brust received the in-bounce pass and dribbled past Caris LeVert, threw up a prayer, finding nothing net, sending the game into the extra frame.
Hardaway finished with 18 and Mitch McGary had 12 off the bench. Jordan Morgan missed the game still recovering from an ankle injury. Jon Horford started in his place.
Wisconsin has now won six of its last seven home games verse top five teams, and has four wins verse ranked teams this season, tied with Syracuse and Indiana for the most this season.