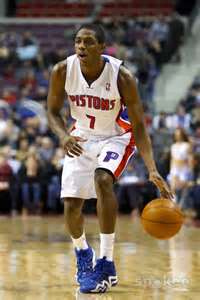 (WQLR) – For most players in the NBA, the All-Star break is a time for relaxation and a few days away from the game of basketball. The All-Star break falls after the half way mark of the season and especially for young players, it's a great time for them to regroup in preparation for the final stretch run of games. But for Pistons' Brandon Knight and Andre Drummond, they won't be spending much time away from basketball during the break.
Knight and Drummond will be competing against each other in BBVA Rising Stars game, held on Friday Feb. 15. 20 first and second year players were chosen Thursday night by two former NBA players, now TNT basketball analysts, Charles Barkley (Team Barkley) or by Shaquille O'Neal (Team Shaq) to compete in the annual game featuring some of the NBA's newest and brightest stars. Knight was picked by Team Barkley, while Drummond was selected to play for Team Shaq.
This will be the second time Knight has participated in the Rising Stars game. Last year Knight was on Team Shaq, along with fellow Piston teammate Greg Monroe. Team Shaq won the game 146-133.
For Knight the weekend will be extra busy as he will also partake in the Taco Bell Skills Challenge on Saturday Feb. 16, the day before the All-Star Game. Knight will compete against Jrue Holiday of the Philadelphia 76ers, Jeff Teague of the Atlanta Hawks, Tony Parker of the San Antonio Spurs (the defending skills champ), Damian Lillard of the Portland Trail Blazers and Jeremy Lin of the Houston Rockets.