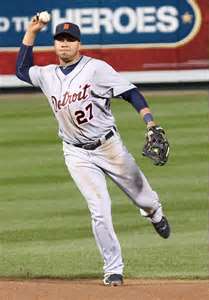 Detroit, MI (WQLR) – According to a report by Sports Illustrated writer Tom Verducci, Tigers shortstop Jhonny Peralta's name is listed on the records of Anthony Bosch, director of the Biogenesis clinic in Florida, which is under investigation by MLB for performance-enhancing drugs. However, Verducci reports that Peralta does not appear to be tied to any PEDs.
Peralta released a statement saying, "I have never used performance enhancing drugs. Period. Anybody who says otherwise is lying."
The Tigers also released a statement about Peralta on Wednesday. "The Detroit Tigers fully support Major League Baseball's Joint Drug Prevention and Treatment Program. We are aware of this report, however since this matter is currently part of an investigation by Major League Baseball, the Club is not at liberty to comment."
Tigers pitching prospect Cesar Carrillo was also on Bosch's list of records. Other names on the list that was released by the Miami News Times were Alex Rodriguez, Melky Cabrera, and Ryan Braun.