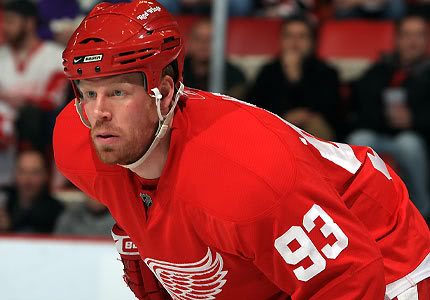 DETROIT (WQLR) -- Jerome Iginla netted his first goal of the year for Calgary, and that proved to be the game-winner as the Flames downed the Detroit Red Wings by a 4-1 final Tuesday night at Joe Louis Arena.
Iginla's wrist shot gave Calgary the lead at the 3:24 mark of the opening frame. Curtis Glenncross lit the lamp seven minutes later with a 5-on-3 power play goal to put the Flames up 2-0.
Johan Franzen cut the lead in half at the 12:37 mark of the second period with a power play goal. Franzen's second score of the season pulled the Wings within a goal, but they wouldn't get any closer. Calgary scored once in the second, and added a power play goal in the final frame to earn their second win of the season.
Jimmy Howard stopped 19 shots for Detroit, including a penalty shot from Iginla in the second period after Jonathan Ericsson was whistled for interference on a breakaway chance for the Calgary right-winger. Leland Irving stopped six shots through two periods for the Flames before leaving the game with a lower-body injury. Miikka Kiprusoff notched 19 saves in relief.
Detroit (4-4-1) will travel to St. Louis on Thursday for a date with the Blues.