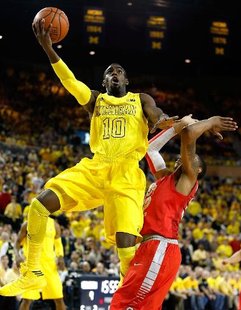 Ann Arbor, MI (WKZO) – John Beilein's 60th birthday will be a day he'll never forget.
Up by two with seven seconds left, Aaron Craft found an open lane to the basket but Tim Hardaway Jr. blocked his layup attempt from behind, securing a thrilling 76-74 overtime victory for the Wolverines over No. 10 Ohio State on Tuesday night.
Hardaway Jr. finished with a game high 23 points, including a career high six 3-pointers, five of which he made in a row during the second half. Trey Burke had 16 and eight assists, while Mitch McGary had 14 off the bench for the third-ranked Wolverines (21-2, 8-2)
In the previous game against Ohio State on January 13th, the Buckeyes outscored Michigan 16-0 en route to an early 29-8 lead before Michigan started their comeback. On Tuesday, it was Michigan with the early run, 12-0, to take a double figure lead at 18-8 with 12:29 remaining in the half. OSU rallied back to take the lead after LaQuiton Ross made a layup with 1:07 left in the half, giving the Buckeyes the advantage at halftime, 31-30.
After the break, OSU increased their lead to eight at 48-40 after a Lenzelle Smith, Jr. 3-pointer. Michigan then responded with a 12-2 run, backed by a 3-point play by Glenn Robinson III, and then three 3-pointers by Hardaway, to regain the lead 52-50.
OSU retook the lead 57-55 with a 3-point play of their own from Amir Williams, with 8:28 left in the game.
Once again that lead was short lived. Nik Stauskas' 3-pointer put Michigan back on top 65-64. OSU tied the game up at 65 after Williams split a pair of free throws. Burke then made a 3 pointer but Deshaun Thomas responded with a three of his own, tying the game back up.
The two rivals traded baskets over the final three minutes and the score was tied two more times at 70, and 72. Burke then had a chance to win the game in regulation but missed a three as time expired, and the game went into overtime
Burke made up for missing the game winning shot but making a 3 pointer to start overtime, putting the Wolverines up 75-72 and they never relinquished the lead as the Buckeyes could only muster up two points in the extra frame.
Stauskas and Robinson each scored in double figures for Michigan, while four Buckeyes scored in double figures, led by Thomas, who had 17.