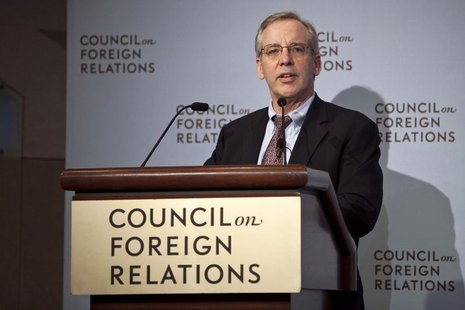 By Jonathan Spicer
NEW YORK (Reuters) - The United States could adopt even broader reforms of the wholesale funding markets than currently being considered, including forcing firms to rely more on longer-term funding or expanding the U.S. Federal Reserve's backstop, an influential Fed official said on Friday.
New York Fed President William Dudley warned that extensive activity in the money markets and tri-party repo markets takes place without proper safeguards against runs and fire sales, and he urged U.S. lawmakers to take a closer look.
Without endorsing a particular path, he suggested the government could curtail short-term wholesale finance, dissuading financial institutions from using such funding, or it could decide to extend access to the Fed's discount window to firms that are "much more socially useful than others."
"Regardless of where we come out on these questions, we must make the basic structure of the wholesale funding market as sound as possible," Dudley told a meeting of the New York Bankers Association.
"Thus, we must push ahead with tri-party and money fund reform."
Both markets have been under regulators' microscope since the 2007-2009 financial crisis, which exposed deep flaws that officials believe persist today.
The $2.6 trillion money market mutual fund industry threatened to freeze up global markets in the crisis, capped by investors' rush to flee the well-known Reserve Primary Fund in the fall of 2008 because of its heavy holdings in the collapsed Lehman Brothers. The fund was unable to maintain its $1 per share value, known as "breaking the buck."
The industry and the Financial Stability Oversight Council, which includes central bank officials, are now locked in debate over what changes to make.
Meanwhile, last summer, the New York Fed unveiled reforms for the $1.8 trillion U.S. triparty repurchase agreement market that would force banks to reduce their reliance on the short-term loans.
So-called repos are a prime source of short-term bank funding and are backed by Treasuries or riskier collateral, including mortgage-backed debt.
Dudley said the sheer size of the banking business that takes place outside commercial banking entities, that now have access to the Fed's discount window, suggests the "issue must not be ignored."
"I don't think we should be comfortable with a situation in which extensive maturity transformation continues to take place without the appropriate safeguards against runs and fire sales," he said.
Dudley did not comment on monetary policy or the U.S. economy in his prepared remarks.
(Reporting by Jonathan Spicer; Editing by Chizu Nomiyama)