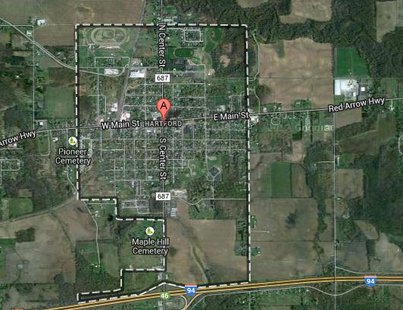 HARTFORD (WKZO) -- Van Buren County's Hartford will grow in size next week. The city of Hartford will get to annex some land currently owned by Hartford Township on Tuesday, as a 20 year old agreement with the township over that property comes to an end.
Under the agreement, the land's official annexation to the city was held off for two decades, but now the city will accept it, and that means the city will grow in size from about one square mile to one point four square miles. The property is is south of what is now Hartford, along County Road 687 to I94. The properties in the land going over to Hartford have been paying taxes to the city all of this time, so owners won't see any difference. City sewer and water lines have already been extended to them.
The agreement that kept the land in the township for the past 20 years stipulated that the city could annex it after paying the township over the course of the agreement, and the Herald Palladium of Saint Joseph says the final payment of just under 37 hundred dollars will be made next month.