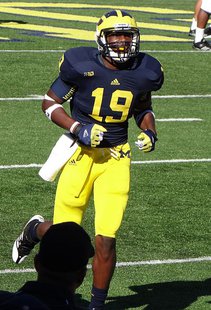 ANN ARBOR (WKZO)- The Michigan Wolverines looked like the team we thought they would look like this year today as they took on their rivals the Ohio State Buckeyes in their 110th meeting.
With less than a minute to go in the game, Michigan drove down the field and Devin Gardner hit Devin Funchess for a 2-yard touchdown pass to cut the lead to 42-41. Brady Hoke, knowing his team wasn't stopping Ohio State's running game, decided to go for two and possibly win the game. Devin Gardner's pass on the two-point conversion though was intercepted and Ohio State recovered the onside kick to seal the game.
The game was back-and-forth in the first half as Michigan and Ohio State matched each other with three touchdowns each. Ohio State though looked like they were going to run away with the game in the second half as Ohio State took a two touchdown lead after the third quarter at 35-21.
Michigan however started the comeback in the fourth quarter. Devin Gardner found Drew Dileo on an 11-yard touchdown pass to cut the lead to 35-28. On Ohio State's next possession Carlos Hyde fumbled the ball and it was recovered by Michigan. The Wolverines took advantage and Devin Gardner hit Jake Butt for a two-yard touchdwon pass to tie the game at 35-35.
Ohio State drove it back down the field and took the lead 42-35. Then, as I stated above, Michigan drove it down the field to score and cut the lead to 42-41 and then missed the two-point conversion.
The Wolverines struggled on third down all season, but were 8-14 today on third down conversions. Michigan had 603 yards of offense, 451 through the air.
Gardner was 32-45 throwing for 451 yards, throwing for four touchdowns, and running for another.
Their was one ugly incident in the game that occured in the second quarter. Some of the Wolverines and Buckeyes players got into a fist fight that had to be broken up by the refs and coaches. Michigan's Royce Jenkins-Stone was ejected for ripping off Dontre Wilson's helmet. Ohio State's Wilson was ejected for throwing punches along with Marcus Hall. As Hall left the field he threw down his helmet, kicked a bench, and flipped off the crowd with both middle fingers.
Michigan finishes the season 7-5 (3-5 Big Ten) and will now wait to see what bowl game they will be invited to play in. You will be able to hear the Wolverines bowl game on 1660 the Fan.