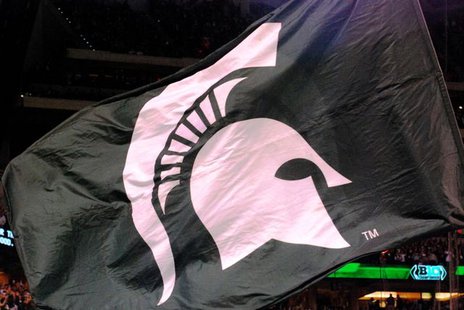 EAST LANSING (WKZO)- #11 Michigan State (11-1 (8-0 Big Ten)) capped off an undefeated regular season in Big Ten play by defeating Minnesota 14-3.
The Spartans jumped on the board in the first quarter with a Jeremy Langford 15-yard touchdown run. Minnesota added a 21-yard field goal off the foot of Chris Hawthorne and the Spartans led 7-3 at halftime.
The Spartans got their other touchdown from Connor Cook to Josiah Price on a 12-yard touchdown pass to give the Spartans a 14-3 lead.
Lanford had 21 carries for 134 yards and one touchdown.
The Golden Gophers contolled the game holding the ball for almost 39 minutes, but they were outgained by the Spartans (324-249) and they had three turnovers.
The Spartans will play Ohio State next Saturday in the Big Ten Championship game in Indianapolis. Broadcast time is at 7:00 pm on AM 590 WKZO. Kickoff is slated for 8:00 pm.