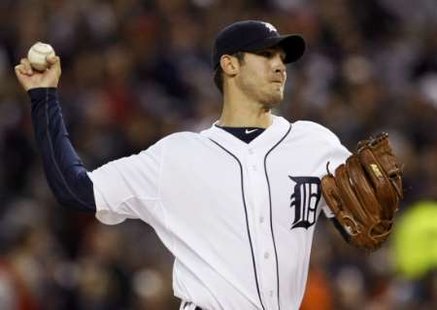 DETORIT (WKZO)- For the second time this week the Detroit Tigers have a game called early due to rain. This time though they came away with the victory defeating the Cleveland Indians 7-2 in seven innings.
The Clevland Indains got on the board first in the second inning taking an early 1-0 lead. The Tigers came back in the bottom of the inning as Don Kelly hit a sacrifice fly to center which brought home Prince Fieldler to tie the game 1-1.
The Tigers got the wheels turning in the bottom of the third scoring four runs. Austin Jackson drove in Jose Iglesias on a single. Victor Martinez then doubled to center driving in Jackson and Andy Dirks. Alex Avila drove in the final run of the inning on a fielder's choice to give the Tigers a 5-1 lead.
The Indians though hung around and loaded the bases in the sixth inning, but only got one run that on walk. The Tigers then added to more runs in the seventh. Andy Dirks scored on a wild pitch and Omar Infante drove in Martinez on a single.
After that the rains came and after an hour rain delay, the game was called.
Miguel Cabrera left the game early with more abdominal irritation. He is listed as day-to-day. Rick Porcello (11-7) picked up the victory and Bruce Rondon picked up his first save. Porcello gave up two runs on five hits while striking out three and walking two. Zach McAllister (7-8) takes the loss for the Indians.
The Tigers extended their lead in the central to 7 1/2 games and they look to extend it further tomorrow as the Tigers send Anibal Sanchez (11-7 2.61 ERA) to the mound. The Indians counter with Scott Kazmir (7-6 4.25 ERA). Broadcast time tomorrow is at 6:40 pm on AM 590 WKZO. First pitch is slated for 7:08 pm.