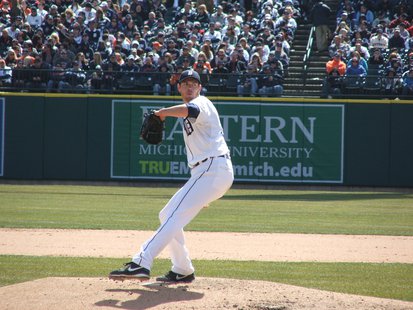 The Oakland Athletics had their hitting shoes on again on Wednesday night as they took their third straight from the Tigers winning 14-4 at Comerica Park. The Tigers have now been outscored in the first three games of their four games series 28-13.
For the third straight game Oakland hammered a Detroit starting pitcher. This time it was Doug Fister who surrendered seven runs on 13 hits in five innings of work. The seven runs allowed by Firster were the most runs he has allowed in any start this season. It was the first time since late June that Tigers starters have allowed four or more runs in three straight games.
The Tigers got on the board for the first time in the third inning when Torii Hunter hit a solo home run which at the time cut the Oakland lead to 3-1. That wouldn't last for long as the A's added four more runs in the fifth inning to make the score 7-1. After Fister departed Jose Alvarez came in and the A's continued to add on scoring three more runs in the sixth inning to push the lead to 10-1. Oakland added four more runs in the eighth inning before the Tigers scored three in the bottom of the eighth to produce the game's final result.
The Tigers will try to get one game in the series on Thursday afternoon at 1:08. The Tigers will lean heavily on Max Scherzer who will face Bartolo Colon.