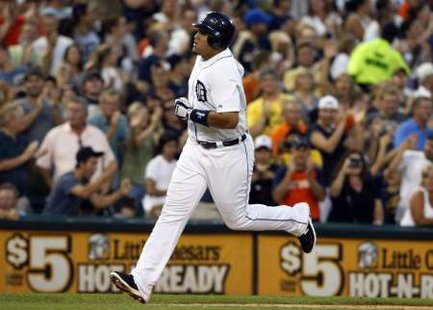 DETROIT (WKZO)- The Detroit Tigers couldn't grab the lead tonight against the Oakland Athletics and lose tonight 8-6. The Athletics jumped out to a 2-0 lead in the first inning on a Josh Donaldson single to drive in Coco Crisp and Yoenis Cespedes brought in Donaldson on a fielder's choice.
Omar Infante got the Tigers on the board in the second game hitting a two-run home run to tie the game at 2-2. However in the third inning the A's grabbed the lead right back on a Coco Crisp home run off of Anibal Sanchez. The A's tacked on one more run in the fourth inning to make the game 4-2.
Miguel Cabrera tried to spark the Tigers in the fifth inning as he hit a two-run home run, his 43rd home run of the season. The Tigers evened up the score at 4-4, but the A's added two more runs in the sixth inning off of Jose Alvarez to stretch the lead out to 6-4. The A's then tacked on a run in the seventh and eighth innings to take an 8-4 lead.
The Tigers still had their chances though. They loaded the bases in the seventh, but Prince Fielder lined out to center to end the threat. Victor Martinez started off the eighth inning with a solo home run to cut the A's lead to 8-5. The Tigers were able to load the bases in with two outs in the same inning, but Torii Hunter struck out.
The Tigers in the ninth put a couple of more runners on and Fielder scored on a Matt Tuiasosopo ground out to cut the lead to 8-6. Infante then grounded out to shortstop to end the game.
Victor Martinez went 4-5 at the plate tonight. The Tigers racked up 13 hits, but they left 18 men on base tonight.
Anibal Sanchez gets a no decision. He only went five innings giving up four runs on five hits striking out six and walking three. Joes Alveraz (1-4) takes the loss tonight in relief for the Tigers. A.J. Griffin (11-9) gets the win for the A's and Cook (3) records the save.
The Tigers will look to regroup tomorrow as they send Justin Verlander to the mound (12-9 3.68 ERA). The A's will counter with Tommy Milone (9-9 4.30 ERA). Broadcast time tomorrow is at 6:40 pm on AM 590 WKZO. First pitch is slated for 7:08 pm.