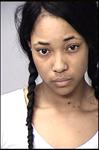 KALAMAZOO (WKZO) -- A Kalamazoo County woman charged with killing her boy friend, has cut a deal with prosecutors to avoid trial.
25-year-old Marcus Mahone was stabbed to death last December at a Comstock Apartment complex.
20 year-old Jeanette Moore has agreed to plead guilty to manslaughter in exchange for having a 2nd degree murder charges dropped.
Moore was scheduled to go on trial this week, but that has been cancelled and they will proceed straight to sentencing on September 16th.
Neighbors said the two were fighting just prior to the stabbing, but the prosecutor's office says a review of the facts did not justify a claim ofself defense.
She could get anything from 3 to 15 years for manslaughter under sentencing guidelines.