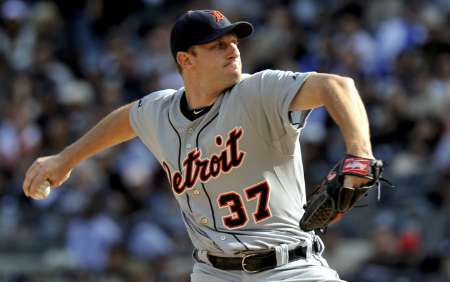 NEW YORK (WKZO)- Max Scherzer dominated the New York Mets today giving up only three hits and striking out 11 on his way to his 19th victory of the season, only the third person in MLB history to record 19 wins in 20 starts. The one downside today for Scherzer was walking four batters.
Once again today the Tigers got on the scoreboard early. Scherzer helped himself out by driving in Andy Dirks on a double in the second inning and moving Bryan Pena over to third. The next batter Austin Jackson drove in Pena with a single.
The Tigers didn't score again until the ninth when Don Kelly pinch hit and lifted a sacrifice fly to the right field to bring in Austin Jackson.
Andy Dirks went 3-3 today while scoring a run. After Scherzer left in the sixth inning, the bullpen did the job allowing no hits over the last three innings thanks to Jose Alvarez, Jose Veras, and Joaquin Benoit. Benoit recored his 17th save of the season.
Matt Harvey (9-5) pitched 6 2/3 innings for the Mets giving up two runs on 13 hits and striking out four batters.
The Tigers will go for the sweep tomorrow against the Mets. Rick Porcello (9-7 4.52 ERA) will take the mound for the Tigers. The Mets will counter with Dillon Gee (9-8 3.60 ERA). Broadcast time tomorrow is at 12:45 pm on AM 590 WKZO. First pitch is slated for 1:10 pm.