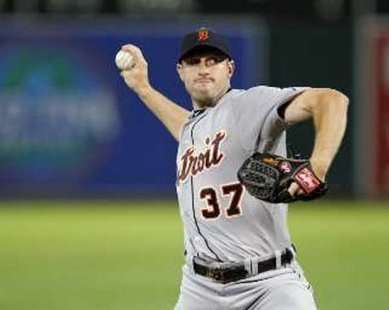 Chicago, IL (WKZO) – Things have gone south quickly for the Tigers after their 12 game winning streak was snapped on Friday, as they have now dropped three in a row and four of five after falling to the Chicago White Sox 4-3 in 11 innings on Tuesday night.
Jeremy Bonderman took the loss for Detroit after loading the bases, but Phil Coke allowed the game winning hit to Alejandro De Aza with just one out in the 11th.
Max Scherzer started for the Tigers but didn't factor into the decision after allowing three runs – two earned – on four hits while striking out six and walking two over six innings of work. Scherzer was looking to become the big league's first 18 game winner and improve on what has already been a career year. Scherzer did however keep his impressive streak of five or more strikeouts in each start this year going, and has recorded five or more punch outs in all 25 games this year.
Former Tiger Avisail Garcia did almost all the damage against Detroit, tripling in two runs in the fourth inning and then advancing to home on an error from by Omar Infante.
Infante did however have three hits and drove in Prince Fielder in the second inning to give the Tigers an early 1-0 lead. Brayan Pena had two hits and was at bat when the Tigers second and third runs were scored. In the sixth, Pena grounded into a fielder's choice, but Victor Martinez was able to score on a throwing error by White Sox shortstop Alexei Ramirez, cutting Chicago's lead in half to 3-2. Pena then drove in Don Kelly, who pinch ran for Martinez, to tie the game at three in the eighth inning.
Drew Smyly, Jose Veras and Bruce Rondon combined for three scoreless innings of relief of Scherzer.
The Tigers will try to avoid the series sweep against the White Sox on Wednesday afternoon. Coverage beings on 590 WKZO at 1:45 with first pitch set for 2:10. Rick Porcello (8-6, 4.32 ERA) gets the start for Detroit against White Sox lefty John Danks (2-9, 4.52)